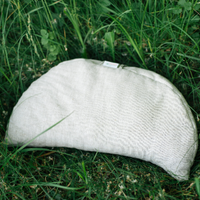 Linen Cover for meditation Cresсent cushion natural non-dyed linen fabric
Linen Cover for  meditation Cresсent cushion natural non-dyed linen fabric without filler
Size Cresent cushion: 16.5"x7.8" x 3.9" (42 x 20 x 10 cm)
Fabric: natural non-dyed linen fabric
With zipper
This item aren't filled with buckwheat hulls - ONLY COVER!
This item was specially made that you could save on shipping, as buckwheat husks heavy.
for one cover of crescent cushion 16.5"x7.8" x 3.9" (42 x 20 x 10 cm) you need near 2 LB of buckwheat hulls to filled it.
Сomfortable, compact cushion for meditation, due to the difference in height, you can easily adjust it for yourself.