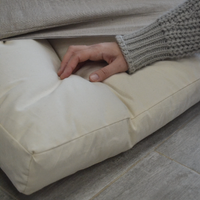 Hemp Linen pet mat pad mattress cushion with removable linen cover organic hemp fiber filler in non-dyed linen fabric
Hemp Linen pet mat pad mattress cushion with removable linen cover organic hemp fiber filler in non-dyed linen fabric

The material of the top is thick flax\linen fabric, the filler is hemp fiber.

Due to the hemp filler this lounger has unique properties: ·

Thermoregulation:
will create comfort for your pet at any time of the year - cool in the heat and warm in winter.
Absorb odors and prevent the appearance of harmful bacteria, other pests.


Composition:
non-dyed natural linen fabric
Filler - organic HEMP Fiber
Care:
this mat contains several layers of natural hemp filler that is not desirable to wash. Such mat are best cleaned in a dry cleaner using dry steam.
If it is a stain, it can be washed locally by hand.
Caring for a linen cover is simple: you need to remove the cover, turn inside out and fasten the zipper. Linen covers can be washed in a delicate mode washing up to 30 degrees Celsius.
It is better to use organic liquid soap/powder or just water.

HEMP - organic. It is completely waste-free product, environment and ecology do not cause any harmful effects.


Please, contact me if you have any questions - I would be glad to answer them!